Goal setting is an integral pillar towards the success of people in all walks of life.
For many of our athletes, a combination of short term and long term goals are phenomenally important to achieving success both in and out of the water. Whether it be working towards a specific result at the Olympic or Paralympic Games, or achieving smaller goals such as a technical refinement or getting more vitamins in your diet, our athletes will have many different targets to keep them on track and motivated.
British Para-Swimming's Performance Lifestyle Advisor, Justine Lucas, knows just how important successful goal setting can be to an athletes training. We caught up with Justine to find out more about her work with the British Para-Swimming athletes, and their approaches to goal setting.
"I do a lot of goal setting on a 1-2-1 basis when working around performance lifestyle with an athlete. These sessions tend to be very individualised, depending on what the athlete has come to me for. The athlete will always lead on the goal setting and we break this down into more tangible smaller goals to help achieve a bigger goal. I try and work using SMART goal setting."
SMART goal setting is broken down into five main areas, which help give goals a real focus and clarity.
Specific – your goals should be clear and focused on what you want to do/achieve
Measurable – a quantifiable objective so you can track your progress
Achievable – an attainable goal that's within your performance capabilities 
Realistic – something that has a genuine chance of success (not too hard, not too easy)
Time – a finite period for the completion of your goals
With the postponement of the 2020 Olympic and Paralympic Games, and all other major national and international competitions due to the COVID-19 pandemic, many athletes have undoubtedly had to shift their goals. With lockdown restrictions in place and pools temporarily closed, goal setting has been absolutely vital.
European champion Tom Dean admits it wasn't plain sailing for him.
"When the Olympics got cancelled it was really tough to come to terms with at first as it all happened in a very short space of time. For the rug to be pulled out from underneath you is quite tough, especially having taken a year out from studying just to focus on training for the Olympics, so I was very demotivated for a long time after the announcement.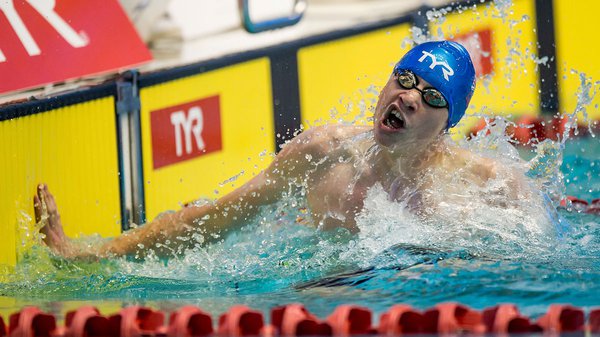 "It probably took me a good few weeks to refocus myself but my new goals are to get back in the water in the best shape I can. We can't make gains at the moment as we're obviously not in the water, but we do have an opportunity to work on areas that otherwise wouldn't be a focus, so that's what I'm trying to do."
We also caught up with another Tom, double Paralympic medallist Tom Hamer, who gave us some great insight into how he goes about achieving his dreams.
"As a swimmer there is only one real goal and that's to get gold at the Paralympics or the Olympics, and that's the one goal that you strive for - since I was a little boy that's what I wanted to try and achieve. I've had two silvers and been so close, but my ultimate goal is to get gold in Tokyo and that's always been my goal.
"In terms of goal setting, that's my main goal and then I set little ones to help complement that. It might be goals with my turns or my push offs or my fly kick – it's just little things and they feed into the bigger picture.
"It's like a tree – the leaves and the branches are my little goals and the big trunk is my main goal."
Justine Lucas adds:

"We have been encouraging our athletes to try and maintain a good structure during lockdown, especially as they are having to work with a 'new normal'. This will include having daily goals/activities to achieve to help with motivation. We try to encourage SMART goal setting to ensure these are realistic, and also to prioritise – having too much to do on your to do list can be de-motivating.
"Because of the uncertainty that lockdown has bought, most people's goals (not just our athletes) have had to be put on hold or changed – but it's important that we control the controllable. The silver lining is that it has now given our athletes more time, so some athletes have come to me and been really proactive regarding some longer term goals, which is great to see."
Whether you find it hard to set goals in normal circumstances, or you are struggling to set goals because the coronavirus situation has had a negative impact reaching them, here are some of our top tips!
Struggling to set goals may be due to a lack of motivation or too much going on. Take some time to understand what is important to you, what the longer term goals is, and how motivated you are to action that.
Break your long term goal down in to smaller goals
You may need help along the way - think who might you need help from to achieve these and don't be afraid to ask
Don't try and focus on too much – prioritise what is important to you during this time.
Good luck and remember to keep those goals SMART!
This Health Hub article was created in collaboration with British Swimming's Official Breakfast Partner UP&GO, supporting British Swimming athletes reach their goals on the road to Tokyo and beyond.