Uncertainty has become a staple of elite sport and general life over the past year - but what are the best ways to deal with it?
In our latest Hot Topic article, British Swimming Performance Psychologist Tom Bates takes a look at whether a short-term or long-term outlook is better, how our athletes are managing the scenario and what simple steps we can all take to make everything a little more manageable...
STAY PRESENT - AND IT'S OKAY NOT TO BE OKAY
Some of the mental and emotional conflict that can happen at a unique time like this comes from time travelling into the past or the future. There are obvious problems with that, because if we think too far into the future, or we attach any sort of worry or anxiety to things that may or may not happen, then we are going to tie ourselves up in knots. The reality is that no-one know what's going to happen, to a degree.
This is an ever-moving landscape. So because it's moving so fast, what we must do is stay present in the moment. Take each day and be the very best that we can be each day, today, now and in this moment. In this training session, in this gym session, with my nutritional programme, with my pre-pool, with my recovery procedures, it's about taking control of the things you are in control of. 
The second thing is the phrase: "it's okay not to be okay". That is very true, inasmuch as we are not always going to be on top of the world and thinking every day is great. 
Especially now, in these times, it doesn't even have to be a person - it can be things that we do that give us energy. So it might be watching your favourite movie or listening to your favourite album, getting in the kitchen and trying a different meal plan. 
There's an apathy surrounding the situation, a feeling that everything is beige - a focus on what we can't do. I would say to anyone - and especially our athletes - don't let what you can't do get in the way of what you can do.
There are many things we can't do, but if we focus on that and spend our emotional energy and attention on that, you're likely to get stressed, frustrated, fill in the blank with any negative emotion. But if we focus on the things we can do, we're going to start to feel like we are actually in control of a lot more than you'd think. 
STAY OPEN - AND THAT CAN HELP RESILIENCE
Our athletes are incredibly resilient people. We should be tremendously proud of each and every one of them - and that goes for our staff as well,  because believe me, as well as me teaching them things, they teach me things, every single day.
They are courageous in being open and honest and sharing how they are really feeling. That is one thing that is critical to this period.
It doesn't have to be speaking with a psychologist, by the way. It can be speaking to your next door neighbour, it could be speaking to a family member on the phone, it might be a friend, a coach. It's just someone who you know, love, trust and respect, to share with.
Our athletes have been courageous enough to be vulnerable when they're not necessarily feeling as good as they possibly could be, which is a tremendous thing for them to do, especially with some being so young.
One of the challenges from an elite sport perspective is about the regular touchpoints of competitive meets. In a 'normal' competitive cycle, it would include various meets which are extremely important to athletes, because they are markers of their progress. 
This time around, there's an obvious vacuum, so there is a space here. We are going to have to be better than we ever have before, but in a different way. 
Dr Wayne Dyer has a wonderful phrase: "When we change the way we look at things, the things we look at change." So we can get stuck thinking we've not got enough competitive meets and that this and that are missing - or we can look at the opportunities that are going to be there. 
It's our job, it's our privilege, to adapt, to overcome and achieve, to stay focused and be better than anyone else in the world at that.
STAY CONNECTED - AND MAKE IT PART OF A ROUTINE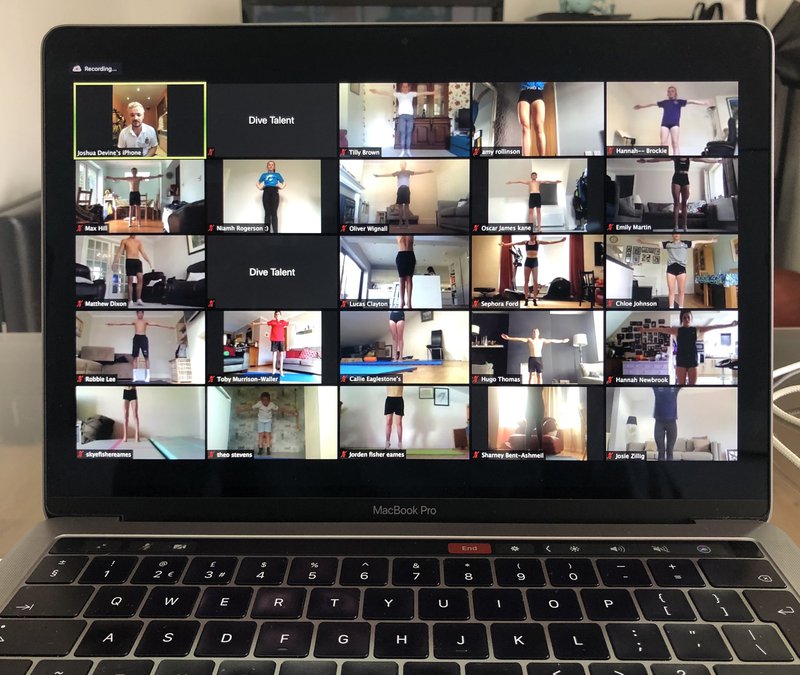 I genuinely believe that the conversation about how we can all deal with the uncertainty of this time is so important for us all.
Number one is staying connected. I call it 'team energy' for our athletes and staff. For anyone else out there, it could simply be your social group, your group of friends, family members.
Just stay connected. Increase communication to decrease negatives. The other thing about this is that you never know who else might need your help, you just never know.
Somebody you normally speak to, your friends, we just don't know how important a conversation may be in someone's life - and we should never underestimate that. So stay connected, reach out and communicate. 
Number two is how important routine can be. A good definition from sport about competitive toughness, mental toughness is 'disciplined thinking and disciplined action under pressure and fatigue'. So when I'm speaking to people outside of sport, what does that look like? 'Disciplined thinking, disciplined action'.
If you can't go out and go to work, I've got people telling me about how difficult it is to maintain momentum in their lives when working from home. 
If you cannot stick to your previous routine, do anything other than be ill-disciplined and let life's troubles take your energy, attention and focus. 
We're not really stuck at home - we're safe at home. There are many things we can do. Try something new to add a little bit of variety into your routine and structure.
Be kind to yourself in these times. Be kind. Self-care is important. 
I know a lot of people have started keeping a journal, writing and recording their thoughts: things they want to achieve, so they can use this time to reflect and refocus. What are the goals that people really want to achieve?
I encourage people to try to look for the good things to have come out of this situation. How are we different now, in a better way, than before?
Things were so fast, we were on the treadmill of life before. An example for me is I've had much more opportunity to really be present with my three children, to notice the little things. 
At bedtime, reading them stories, playing board games, things that I'd never have been able to do before - but now, I can. 
I realise how much I wasn't doing that before. I'm not blaming myself for that, but I'm saying there are opportunities, if we can just approach it from a different perspective. Change the story here. 
Want to learn more about expert practitioners like Tom who help provide useful information, workout plans, nutritional insight and advice for features like this? Head over to the 'Meet the Experts' section of the British Swimming Health Hub.