For the first Hot Topic of 2021, we are taking a look at the importance of starting your day in the right way – by eating a good, nutritious breakfast. 
Things have been very different for us all over the past year. But, as British Para-Swimming Performance Nutritionist Stef Shreeve points out in her article below, that has not changed the reasons for this crucial early-morning boost… 
BREAKFAST DURING LOCKDOWN
The coronavirus pandemic has created a significant shift in Britain's breakfast habits. As many of us are working from home, we are spending more time preparing meals – including the first one of the day.
Positively, that means more of us are now making an effort to have a good breakfast on a daily basis and not missing out, as we have more time in the morning.
Sticking to a routine has been suggested as one of the best ways to get through lockdown, and including breakfast in that routine is a positive way to start your day.

STARTING THE DAY THE RIGHT WAY
As the name suggests, breakfast breaks your overnight fasting period. It replenishes your supply of glucose to boost your energy levels and alertness, while also providing other essential nutrients required for good health.
Skipping breakfast (or any meal) is not a good idea if you are looking to maintain a healthy lifestyle and, contrary to popular opinion, it won't help you lose weight either. You'll likely miss out on essential nutrients and you may end up snacking more throughout the day because you feel hungry and fatigued.
One thing I always say is to think of your body as a car. You couldn't drive anywhere without any petrol in the tank, so make sure you have a balanced breakfast to kick start your day and give your body that first, important fuelling.
WHY BREKKIE IS KEY FOR KIDS
Getting kids into the habit of eating breakfast is important. Breakfast is a great opportunity to help your children on the way to five-a-day, as well as providing them with essential proteins and carbohydrates.
Milk and yoghurts are great sources of calcium and protein, which help with bone and muscular development, while cereals and fruit provide energy-sustaining carbohydrates to keep them going and feeling full for longer.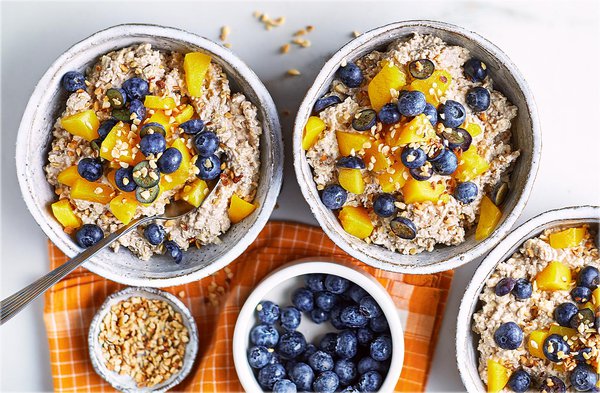 THREE OF MY BREAKFAST CHOICES
I love a bircher muesli for breakfast – it's quick to prepare the night before, so great for those mornings where you've got something planned or don't have that much time. I typically use a Tupperware pot and add 50g oats, a grated apple, 2 tbsp Greek yoghurt, 1 tsp chai seeds, 25g mixed seeds, 1tbsp sultanas and 100ml milk. Mix it together and soak overnight. In the morning, top with some raspberries and you will have a ready-made, nutritious breakfast.
For a different take on scrambled eggs on toast, you can always try a breakfast burrito. Check this recipe out...
Ingredients – 2 people
2 tsp chipotle paste
2 eggs
2 tsp rapeseed oil
100g kale
14 cherry tomatoes, halved
1 small avocado, sliced
2 wholemeal tortilla wrap, warmed
Method
Whisk the chipotle paste with the egg sand some seasoning in a jug. Heat the oil in a large frying pan, add the kale and tomatoes.
Cook until the kale is wilted and the tomatoes have softened, then push everything to the side of the pan. 
Pour the beaten egg into the cleared half of the pan and scramble. Layer everything into the centre of your wrap, topping with the avocado, then wrap up and eat immediately.
This is a great and quick breakfast for adults and children alike. Go for wholemeal wraps for that energy-sustaining carbohydrate, while eggs are high in protein so help fill you up for longer.
For mornings where you may be running out the door, a 'pimped up' smoothie could be a good option. Here's my favourite recipe: 1 frozen banana (skin removed before freezing), 80g frozen mixed berries, 40g oats, 200ml semi-skimmed milk and 2tbsp of low fat Greek yoghurt and ½ tsp vanilla extract – blend together and you're good to go.
GET UP&GO TO MAKE MOST OF YOUR TIME
While many of us have been adapting to a breakfast ritual as part of our new working-from-home lifestyle, there remains a big portion of the population who are still finding themselves short of time, now so more than ever.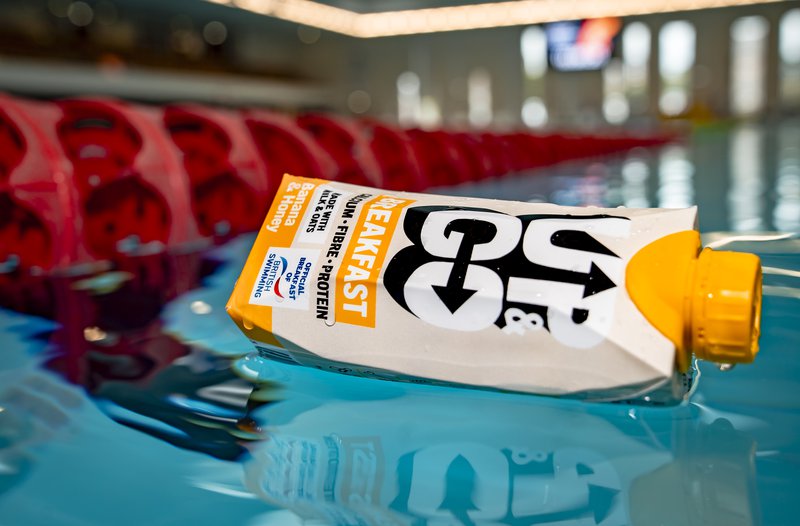 For our key workers, the morning commute still exists, while there are busy parents, juggling home learning around Zoom calls and looking for a quick and easy solution to keep the family satisfied throughout the morning.
In these situations, another great breakfast option can come courtesy of British Swimming's official breakfast partner, UP&GO.
UP&GO is a milk and oat-based breakfast drink that provides a good source of protein, calcium and a whole host of essential vitamins and minerals that help in maintaining a healthy lifestyle – all without any preparation time and perfect for hectic mornings, whether you are on the go or adjusting to a new routine at home. 
Replaced your usual daily commute time with a new exercise regime? UP&GO also acts as a great post-training snack, with carbohydrates to replenish the glycogen that has been depleted during your exercise and high in protein to support speedy muscle recovery – so they are a ready-made option at any time of day.
This Heath Hub article was created in collaboration with British Swimming's Official Breakfast Partner UP&GO, a healthy-on-the-go solution for when you're on the move. Find out more about partnership HERE.